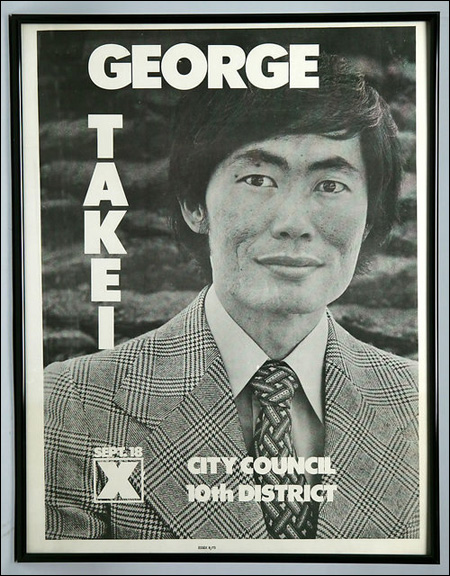 Today is the 74th birthday of native Angeleno
Geroge Takei
, who is many things - actor, writer, Asian American and LGBT community activist and pop culture icon. But did you know
he was almost elected
to the
Los Angeles City Council
?
It goes like this - in 1973, after
The Great Tom Bradley
made history being elected as Los Angeles' first Mayor of African American descent in the May 29 General Municipal Election, he had to resign his incumbent seat as
10th District
City Councilman, which he held since 1963.
With the seat vacant, a Special Election took place on September 18 of that year, which attracted around a dozen candidates for the seat. Being a Special Election filing a vacant seat, there was to be no run-off; the top vote-getter wins the office.
Takei ran for the Mid-City area council seat under the ballot description, "Television Moderator" - he was the co-host of
Expression East/West
, a local public affairs show that aired on KNBC at the time.
City legislative deputy
David Cunningham
won the election with 8,062 votes and served the seat until 1987, when he was succeeded by Nate Holden. The runner-up? Geroge Takei, with 6,387 votes - losing by a tally of only 1,675.
Had Takei been elected, he would have been the City's first Asian American on the Council, which was eventually achieved by
Michael Woo
, elected to the 13th District in 1985 (Takei would not have been the first openly-gay City Councilman (assuming he would have come out back then), as
Joel Wachs
preceded him in 1971). But he would have certainly become the first celebrity to serve in Los Angeles City office - not an unusual thing even back then, considering
who was sitting in the Governor's office at the time
.
Takei did have some experience in public policy; Mayor Bradley appointed him to the Board of Directors of the
Southern California Rapid Transit District
(the predecessor agency to today's
Metro
), where he served for 11 years. While filming
Star Trek: The Motion Picture
in 1978, he was called off the set to cast a tie-breaking vote for the RTD to create what we know now as the Metro Rail system. He was also credited with helping to create an arts program for Metro Rail, which is why nearly every Metro station is decorated with public art pieces.
Who knows what things would have been like had he been City Councilman? Mayor Sulu? Only a visit to a
parallel universe
through a multidimensional
wormhole
could tell.
George Takei campaign poster image from AngryAsianMan.com