Interactive map! Click here for larger version!
Welcome to C
icLAvia
XVIII, the third CicLAvia in 2016! Our Epic CicLAvia Tour returns to iconic Wilshire Boulevard for the first time since April, 2014, but this time it's a little, uh. Not As Epic - in size at least. But it's for good reason -- Metro is diggin' on Wilshire again for the new extension of the
Metro Purple Line subway,
which will take a while. Now why the fine folks at CicLAvia didn't do a re-route up Western for a block and run a parallel route west on 6th Street, ending at Fairfax is beyond The Militant's control, but hey. that only means it's Cut-And-Paste time for this edition of the Epic CicLAvia Tour post, which he decided to slap together and do a quickie update for continuity's sake. Enjoy CicLAvia on Sunday. You may or may not see The Militant on the streets!
1. One Wilshire Building/Wilshire Bookend Palm Trees
1966
624 S. Grand Ave, Downtown
Built during the first wave of modern skyscrapers following the repeal of Los Angeles' building height limit laws, this building, designed by architectural rockstars
Skidmore, Owings and Merrill
(who also went on to craft Chicago's Sears Tower, among many others) stood for most of its life as the address of legal and financial institutions. After a renovation in 1992, this building is now the location of
CoreSite
, a major data colocation center, which carries the primary Internet connections for Los Angeles (without this building,
you can't read this!
)
Take note of the row of palm trees, planted here in the 1970s: They are meant to evoke the end of Wilshire Boulevard, as on the opposite end, at Santa Monica's Ocean Avenue, 16 miles from here, you will also find a row of palm trees.
2. Wilshire Grand Center
2017
Wilshire and Figueroa (SW corner), Downtown
On this site is currently rising the new
Wilshire Grand Center
, Los Angeles' (and the West's -- suck on it,
Transbay Tower
SF!) tallest building at 73 stories and 1,100 feet (kinda sorta, there's a spire, you see...). It will also be Los Angeles' only modern skyscraper without a flat roof and will house
Wilshire Grand Hotel 2.0
and a bunch of shops and condos.
The building will also have a "sky lobby" up at the top and will be the first skyscraper anywhere to sport a mohawk, which is being built at this moment!
The current construction site was the location of "The Big Pour" - which lasted from February 15 -16, 2014, where 21,200 cubic yards (81 million pounds) of concrete were continuously poured - earning it
a Guinness World Record
for that feat.
Before the skyscaper, the site was home of the Wilshire Grand Hotel, formerly (in reverse chronological order) the Omni Hotel, Los Angeles Hilton, Statler Hilton and Statler Hotel.
3. L.A. Prime Matter Sculpture
1991
Wilshire and Figueroa (NW corner), Downtown
Wilshire is full of awesome-looking public art. Here's one relatively-recent sculpture right at the northwest corner of Wilshire and Figueroa. Designed by the late Venice-based artist
Eric Orr
, who had a penchant for utilizing elemental themes in his art,
L.A. Prime Matter
features twin 32-foot bronze columns that feature water sliding down its faces, and during random moments, FIRE emanates from the middle channels of the columns! The effect is total bad-ass, and its bad-assnes is magnified at night.
The sculpture, though, has been out of service since Fall of last year, where
it has been undergoing a restoration project
, which will be completed later this year. Once finished, the flames will go off every hour on the hour. Now
that
is bad-ass.
4. Site of George Shatto Residence/Good Samaritan Hospital
1891
Wilshire Blvd and Lucas Ave, Downtown
Before it was named Wilshire Boulevard, it was once called Orange Street, and on the corner of Orange and Lucas was a Queen Anne-style mansion belonging to George Shatto, a real estate developer who first developed Catalina Island and the city of Avalon. If you read the
Epic CicLAvia Tour 4.0
post, his name is brought up as one of the famous Angelenos buried (in a rather ornate pyramid) at Angelus Rosedale Cemetery.
But check this out!
Take a look at the picture above, and pay close attention to the masonry wall going uphill that fronts Lucas Avenue. Now, on CicLAvia Sunday, look at the exact same spot, on the northwest corner of the intersection. The house is gone, but the original wall
still remains
!
Good Samaritan Hospital
, which was founded in 1885 and moved to the current site in 1911, is also the birthplace of many native Angelenos, including mayor
Eric Garcetti
.
5. Los Angeles Teachers (a.k.a. 'Stand And Deliver') Mural
1997
Wilshire and Alvarado, Westlake
Art imitates life imitating art imitating life in
this mural
by popular Salvadoreño American muralist
Hector Ponce
depicting actor Edward James Olmos, who portrayed Garfield High School math teacher Jaime Escalante in the 1988 movie
Stand and Deliver,
standing next to the real-life Escalante, and delivering a mural that's part-Hollywood, part-Los Angeles, part-Latino pride, part Eastside pride and if the Internet were as accessible back in 1988 as it is today, would make one epic photo meme. And it's painted behind the 1926
Westlake Theatre
, which is slated for renovation into a community-baed performance arts venue sometime soon. Celebrate the 25th anniversary of
Stand and Deliver
by having the
ganas
to stop by.
6. Gen. Harrison Gray Otis Statue
1920
Wilshire Blvd and Park View Ave, MacArthur Park
Gen. Otis is perhaps the most visible statue at the park, which predates MacArthur's WWII service. This general served in the Spanish-American and Philippine-American wars, and also fought as a Union soldier in the Civil War. But in Los Angeles, he is most known for being the founder, owner and publisher of the Los Angeles Times. So why is he here? His Wilshire Blvd mansion, called The Bivouac, was located across the street, was later donated to Los Angeles County and became the original campus of
Otis Art Institute
. It's thought that his statue is pointing to the site of the Elks Lodge, but he's probably just pointing to his old house.
7. Bryson Apartment Building
1913
2701 Wilshire Blvd, MacArthur Park
This 10-story Beaux Arts apartment building, built 100 years ago, was the 20th century precursor to today's fancy modern 21-century high-rise residential developments. Built by developer Hugh W. Bryson, it was built in a part of Los Angeles that was known at the time as "the west side" (let's not open that can of worms right now, okay?). It was one of Los Angeles' most luxurious apartment buildings, and had a large neon sign at the roof (characteristic of these kinds of developments back then). Several Raymond Chandler books reference The Bryson. The 110,000 square-foot building is also part of the National Register of Historic Places and a Los Angeles Historic-Cultural Monument.
8. Lafayette Park
1899
Wilshire Blvd and LaFayette Park Place, LaFayette Park
Clara Shatto, the widow of George Shatto (remember him?) donated 35 acres of her land to the City of Los Angeles in 1899, which was once oil wells and tar pits. Her late husband wanted it turned into a city park, and so it became Sunset Park, which existed for 19 years before the locals wanted it renamed to honor the 18th-century Frenchman who was a hero in both the American and French revolutions. Gotta give LaFayette park some props for living so long in the shadow of its more famous neighbor, MacArthur (Westlake) Park.
9. Bullocks Wilshire/Southwestern Law School
1929
3050 Wilshire Blvd
Perhaps one of the most iconic examples of Art-Deco architecture in Los Angeles, this former Bullocks Department Store was designed with a tower to resemble a New York-style skyscraper in then-unabashedly low-rise Los Angeles. It was the epitome of shopping in style in its heyday, with its own rear parking lot and other auto-centric amenities. It ultimately fell victim to the 1992 Los Angeles Riots and was closed down the next year. In 1994, the nearby
Southwestern School of Law
bought the building and incorporated it into its campus, restoring much of the Roaring 1920s Art Deco aesthetics.

10. Shatto Place
c. 1880s
Wilshire Blvd and Shatto Pl, Koreatown
Gee, we can't get seem to get away from that George Shatto guy, can we? George and Clara owned a plot of land here on this street, which was once home to some of the most beautiful mansions in Los Angeles at the time. Although Clara sold the land in 1904, George stipulated that all properties on the street maintain the character of the exquisite homes there, which was challenged several times until the late 1920s, when the homes started to be demolished in favor of more modern commercial development.
11. "The Vermont" Highrise Apartment Developmen
t
2014
Wilshire Blvd and Vermont Ave., Koreatown
This 30- and 25- story highrise mixed-use apartment development is called "The Vermont" by
J.H. Snyder Co.
which opened in 2014. It's Metro-accessible, and it has a friggin'
Pizza Rev
, but who the hell can afford the rents for this place?

12. Consulate Row
Various locations along Wilshire Blvd between Vermont and Crenshaw
Some 62 countries have consular offices in the Los Angeles area and 41 of them have addresses on Wilshire Boulevard. Proximity to various foreign financial institutions on Wilshire, as well as nearby Hancock Park, where many consul-generals have traditionally resided, are the main reasons for such a high concentration of consulates on this stretch of Wilshire. The consulate offices for Bangladesh, Bolivia, El Salvador, Ethiopia, Guatemala, Honduras, Indonesia, South Korea, Nicaragua, Peru, The Philippines, Sri Lanka and Taiwan are all located on Wilshire between Vermont and Crenshaw. Many of them display their national flags in front of their respective office buildings. How many can you spot during CicLAvia?
13. Gaylord Apartments
1924
3355 Wilshire Blvd
Though the building's prominent neon sign has been source of many a snicker by immature junior high school kids, this building represents some serious history. It was named after Wilshire Boulevard's namesake, Henry Gaylord Wilshire, who was known as a wealthy real estate developer and outspoken socialist (Does that make sense?), who donated a 35-acre strip of barley fields to the City of Los Angeles on the condition that it would be free from railroads or trucking.
The building itself
is a 13-story Italian Renaissance-style apartment building that actor John Barrymore (a.k.a. Drew's grandpa) and then-presidential candidate Richard Nixon once called home.
14. Brown Derby Site
1926
3427 and 3377 Wilshire Blvd
The now-defunct "The Brown Derby" local chain of restaurants were synonymous with Hollywood glitz and glamour. The Wilshire Boulevard location was the first of four (the others were in Hollywood, Beverly Hills and Los Feliz). In close proximity to The Ambassador Hotel and its Cocoanut Grove swing/jazz club, this was the original hipster joint back in the day, only back then the hipsters were actually cool and looked good. In 1937 the building was moved across the street and closed in 1975. In 1980, a shopping center was built on the site and the iconic dome structure was incorporated into the shopping center that exists today. It's situated on the third floor, above The Boiling Crab seafood restaurant. It's something to ponder on while you wait 90 minutes for your table.
Note that the pictures for #13 and #14 connect vertically - that's the Gaylord Apartments behind the Brown Derby!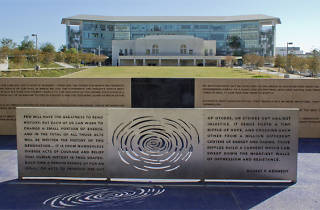 15. Robert F. Kennedy Inspiration Park/Ambassador Hotel Site
2010
Wilshire Blvd between Catalina Street and Mariposa Avenue
The Militant
wrote a post in 2010
about this unique public space dedicated to Sen. Robert F. Kennedy, who was assassinated just yards away at the Ambassador Hotel, which was demolished in 2005 and where the LAUSD's sprawling and costly RFK Community Schools campus now stands. There's Kennedy quotes on public art installations and benches for you to chill on. There's also speakers playing recordings of some of the jazz music that was performed at the hotel's famed Cocoanut Grove swing and jazz club.
On April 18-19, the school campus will host the first-ever
K-Town Night Market
with food, vendors and live entertainment.
16. Wiltern Theatre/Pellissier Building
1931
Wilshire Blvd and Western Avenue (duh...), Koreatown
The 12-story structure, designed by Stiles O. Clements, is Los Angeles' emerald-green temple to all that is Art Deco. Originally operating as the "Warner Theatre" (Specifically the Western Avenue location of Warner Bros. chain of movie theaters; The Warner Theatre in San Pedro is another example), The Wiltern (named so since 1935) has seen many cycles of decay and rebirth, most recently in the 1980s, when preservationists renovated the theatre to a performing arts venue. The contemporary Wiltern Theatre has been operating since 1985.


STOP! That's it folks. The route ends here. It goes no further. Maybe you can spend your extra time on this route walking up and down the street and playing some Pokemon GO (The Militant has heard there's a Scyther nest at Lafayette Park).