Here we go, folks,
CicLAvia
season has officially begun! There are uh...[an unspecified number of] CicLAvia open streets events in this here year of 2018. The first one of the year takes us allllllll the way to the farthest eastern reaches of Los Angeles County, like almost even San Bernardino County here, for the
"Heart of the Foothills"
route.
Okay, The Militant is going to step on his soapbox here for a second: WHY IS THERE A CICLAVIA ALL THE WAY OUT IN FAR, FAR, FAR, FAR EASTERN SGV?!?! CicLAvia is supposed to take place within the City of Los Angeles or in neighboring cities (Pasadena - you cool). It's also sponsored by
Metro
, who's ponying up a lot of dough to put on an even that's NOT EVEN IN ITS SERVICE AREA. Also, the SGV has their own regionally-branded event,
626 Golden Streets
. SO WHY IS THIS A CICLAVIA?!?! Especially when the City of San Fernando, which is 1) A neighboring city to the City of Los Angeles; 2) Well within Metro's service area (shout-outs to Metro Local Line 94) BUT THEY HAD
A NON-CICLAVIA-BRANDED OPEN STREETS EVENT IN MARCH
.
What next, CicLAvia Las Vegas Strip Meets Downtown Vegas?
Pardon The Militant, it's just that he NEVER misses a CicLAvia, and this time he has to either take a one-hour Metrolink ride or drive all the way out to the route early Sunday morning (or even spend the night in a nearby hotel...). It seems as though this whole event was a total oversight, or there's some sort of shady activity going on, or...who knows what. The Militant has voiced this on Twitter and the normally-responsive CicLAvia account has been tight-lipped about staging a CicLAvia out there in BFE-adjacent. C'mon CicLAvia organizers...
don't forget what the 4th and 5th letters of your name stand for.
Alright, take a deeeeep breath, Militant.
[inhales....exhales]
Okay, rant is over. The reality is that there's a CicLAvia, and The Militant has to travel a long-ass distance to get to it. FINE.
So here's your stinkin' Epic CicLAvia Tour...for the 25th time.
It's 6.7 miles from Claremont to San Dimas, via Pomona and La Verne (not Shirley). Lots of history yadda yadda yadda. Lots of old train stations, former railroad hotels and institutions of higher learning. That's basically it.
1. Marston Quadrangle
1923
College Ave & 4th St, Claremont
This open green space at the heart of
Pomona College
's campus not only marks the original site of the college (which started out here in 1887 in a former railroad hotel building), but in 1923 the Quad became the central commons area for the expanded campus, fashioned after the one at the University of Virginia (founded by some dude named Thomas Jefferson). The Quad was envisioned by the college's first president as a "college in a garden" borrowing aesthetic elements of East Coast Ivy League schools, but set in the Mediterranean climate setting of Southern California. The Quad was named after
George White Marston
, a San Diego-based philanthropist who was the first president of Pomona College's Board of Trustees. The Quad continues to be used as a public open space for recreation and formal events.
2. Claremont Depot & Pacific Electric Right of Way
1927
1st Street & College Ave, Claremont
Claremont
might be known as a college town, but it started out as a railroad town. In 1887, it was founded by the Atchison, Topeka and Santa Fe Railway who built a wooden Gothic train depot on this site and
named it "Claremont,"
because they felt like it.
Forty years later, the station was replaced by a Spanish Colonial Revival building designed by company architect William H. Mohr (who also designed the station's older sister and familiar sight to Gold Line riders, the 1916 Monrovia Depot, as well as the 1918 San Bernardino Depot). Trains that originated in places as far as Chicago stopped at this station until 1967 when the station closed for business. The city of Claremont, recognizing its historic importance (it was placed on the National Register of Historic Places in 1982), purchased the building in 1989, and in 1993, it saw new life again as a train station, this time serving
Metrolink
commuters between Los Angeles and San Bernardino. A packing house a few doors to the west also served Santa Fe freight trains, shipping local citrus fruit to points east.
This location not only served Santa Fe trains, but Pacific Electric Red Cars as well. First Street, where the CicLAvia route runs, once had the Pacific Electric Right of Way running in its median.
The photo above
, taken by Jack Finn, shows the intersection of 1st St and College Ave (looking east) exactly 70 years ago! The building on the right was the Pacific Electric's own train depot, which was unfortunately demolished in the 1960s. In addition to having train stations past and present, this location will also have a future rail stop in the form of a Metro light rail station as part of Phase 2 of the Metro Foothill Extension, opening by 2026.
3. Adobe de Palomares
1854
491 Arrow Hwy, Pomona
If you know your local history, you'll know that before the 1850s, Southern California was part of Mexico and the land was divided into large areas known as ranchos, granted by Alta California's governor to various aristocrats and prominent military figures, to use for cattle grazing, farming and homesteading. Ygnacio Palomares was one of these dudes, who in 1837, was co-granted Rancho San Jose (today all four of today's CicLAvia cities, as well as Azusa, Covina, Diamond Bar, Glendora and Walnut). Señor Palomares built his first adobe a few miles south in Pomona, and in 1854 built a new single-story, 13-room, 20-acre hizzouse right here in north Pomona. It was a popular overnight stopover point between San Bernardino and Los Angeles (remember, no freeways or even paved streets back then). It was abandoned in the 1880s and restored in the 1930s, later purchased by the city of Pomona. In 1940, the adobe became a museum, and the city even allowed Palomares descendants to live in the adobe as caretakers. The last family member lived there until 1958. It is considered one of the most complete extant examples of Mexican rancho-era Southern California adobes. Check it out!
4. Pomona Depot
1941
Garey Ave & Santa Fe St, Pomona
Adjacent to today's Pomona North Metrolink station is the original Santa Fe Railway depot serving Pomona. Built in 1941, it is much newer than (and not as architecturally ornate as) its sister stations down the line, but it served legendary Santa Fe trains like the El Capitan from Chicago to Los Angeles via Pasadena until 1967. It served Amtrak trains until 1996 when the Northridge Earthquake damaged several bridges enough to re-route the line through Orange County. In 1992 the modern-day Metrolink station opened several yards west, and this building was converted into a Metrolink operations center.
2026
E. St & Arrow Hwy, La Verne
There's nothing here yet, but the empty space on the northeast corner of E St. and Arrow Hwy will become the La Verne station for Metro's Phase 2 Foothill Extension light rail line. Not only will it serve the nearby University of La Verne campus, but it is pretty dang close to the Los Angeles County Fairgrounds, just over a mile southeast of the station. When the line opens by 2026, expect shuttle buses to take riders to the Pomona Fairplex every September.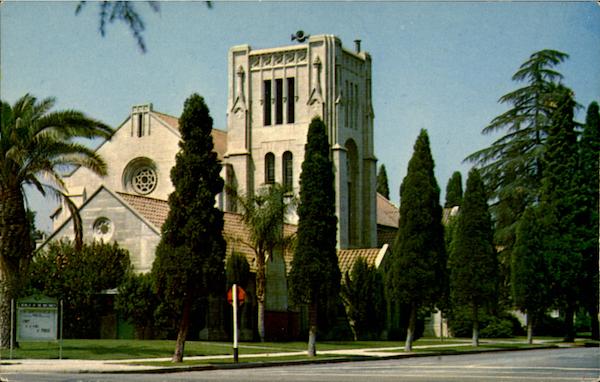 6. Church of the Brethren
1889/1929
2425 E St, La Verne
This church
has played a huge role in the ity of La Verne. Originally known as "Lordsburg" after real estate developer Isaac Lord, who got the Santa Fe Railway to build a station on his property, the region attracted tourists and later transplants from the midwest due to a fare war between the railroads and the rapid popularity of Southern California due to its weather and agriculture. In 1889, a man named M.M. Eschelman, a member of the Church of the Bretheren (a German-based Christian denomination with a pacifist theology akin to that of the Quakers and Menonites), was responsible for establishing a Brethren-affiliated college that would eventually be known as University of La Verne. The current church building was designed by architect Robert H. Orr and built in 1929.
7. University of La Verne
1891
1950 3rd St, La Verne
Church of the Brethren member M.M. Eschelman arrived in town (then known as Lordsburg) in 1889. He sought to establish a church-affiliated college, after starting one such school in Kansas. He convinced town founder Isaac Lord to sell his unsuccessful railroad hotel to Eschelman, and Lordsburg Academy was established in 1891. The town's population grew, with many residents being church members. After Mr. Lord died in 1917, the town was re-named La Verne, a French phrase meaning "Spring-like" or "growing green." It was coined by local ranchers who described the foothills as such. With that, Lordsburg Academy became La Verne College, and University of La Verne in 1977. The university is now officially non-sectarian, but maintains traditional and organizational ties to its founding church.
8. Kuns Park/Kuns House
1939/1911
1600 Bonita Ave/2449 Magnolia Ave, La Verne
This 2.5 acre green space is
the oldest park in La Verne
. Built as part of the original Lordsburg tract, it was once part of an 18-acre ranch owned by
Henry L. Kuns
, the son of David Kuns, one of the four founders of Lordsburg Academy (now University of La Verne). In 1911, the younger Kuns, then the mayor of Lordsburg, had his 7-bedroom Edwardian Tudor/Craftsman Bungalow house built on the property. Kuns himself planted the carob tree at the northeast corner of the park. He died in 1930 and his heirs refused to pay the property tax, so the park was bought by the city in 1938 at an auction for $200. The green space later became an official city park. The house was passed on from family members to other owners, and went on the market in 2012 following the death of its owner at the time. The University of La Verne eventually purchased the house to function as the university president's residence, bringing the house's connection to the academic institution full circle.
9. San Dimas Circle K
301 E. Bonita Ave, San Dimas

(DISCLAIMER: This was not the actual Circle K store depicted in the 1989 motion picture, "Bill and Ted's Excellent Adventure." That one was filmed in Tempe, AZ. [BOGUS!])
Despite the above disclaimer, if you choose to get a CicLAvia selfie/group selfie here, you may or may not encounter a couple of excellent local dudes there who have encountered a bodacious time travel experience. You also may or may not encounter a dude named Rufus who is known to appear in the parking lot in a telephone booth (If you're under 30, you'll have to Google that). Also, do not be alarmed if you see yourself come out of that telephone booth, explaining you you that they're you and have come from the future. After all, The Militant has heard that strange things are afoot at the Circle K.
And if not, there's always
the hot dogs
.
10. Jedediah Strong Smith Statue
1992
245 E. Bonita Ave, San Dimas
In front of
San Dimas City Hall
stands a bronze statue of some dude taking a knee, although it doesn't look he's engaged in prayer or protest. It's actually
a public art monument created by sculptor Victor Issa
in 1992 entitled, "A Welcome Sight." The dude is a man named
Jedediah Strong Smith
, a 19th-century explorer who was the first person to lead a party of Americans by land into California (then part of Mexico) in 1826. His group left Great Salt Lake in August of that year, crossed the deserts, and according to his journal, reached the crest of the San Gabriel Mountains by November and looked down at the valley below. His pose and the sculpture's title were meant to reflect his expression as he looked down into what would be known as The 626. His connection to San Dimas was that his party camped in an area filled with mud springs on November 26, 1826 en route to Mission San Gabriel. San Dimas' former name was La Cienega Mud Springs. If the dude's name sounds familiar, he is the inspiration behind the folkloric character
Jebediah Springfield
on "The Simpsons." Interestingly, Jebediah Springfield's town square statue
also
depicts him also standing on one knee. Wait a minute...Mud Springs...Springfi...OMG NO WAY!
11. Metro Gold Line San Dimas Station
2026
San Dimas Ave & Railway St, San Dimas
The Phase 2 of the Metro Gold Line's Foothill Extension, which broke ground in December 2017, will stop at this location just south of downtown San Dimas by 2026, en route to its eventual terminus in Montclair. Of course, by then the line will no longer be called the Gold Line, but the Blue Line (or the A Line), which, thanks to the
Regional Connector
, will merge the current light rail lines to Long Beach and Azusa into one long-ass one.
12. The Walker House
1887
121 N. San Dimas Ave, San Dimas
Known as the most historically significant building in San Dimas, this Queen Anne structure, designed by the Newsom Brothers, was originally built in 1887 to be a local railroad hotel (the second building built in town) until Kentucky transplants James and Sue Walker purchased it for their family residence in 1889. Multiple generations of the family lived in the house until the 1970s. In 1972, it made the National Register of Historic Places, functioned as a restaurant at one time, and in 2000 it was purchased by the Redevelopment Agency of the City of San Dimas, who performed a major restoration on the house completed in 2009. Today it is home to the
San Dimas Historical Society
, the
San Dimas Festival of Arts
and the
Lucabella
restaurant.
13. Pacific Railroad Museum/San Dimas Santa Fe Depot
1934
210 W. Bonita Ave, San Dimas
By now, you've pretty much got the hang of it: The Atchison, Topeka and Santa Fay Railway built a railroad from Chicago to Los Angeles and en route ran the tracks through here in 1887 and pretty much established most of the cities we see today. The existing historic train station was built in 1934 to replace the original wooden depot. The last train served it in 1967 and was re-purposed as the offices of the San Dimas Chamber of Commerce and later a senior center. In 1994, the nonprofit
Pacific Railroad Society
purchased the depot and made it into a
railroad museum
, which also has a stretch of the original track that Santa Fe laid here in 1887.
The Militant visited the museum
(and Downtown San Dimas) in 2009.
Happy CicLAvia on Sunday! As always, see you or not see you on the streets!