Click here for larger view!
Hey...it's...been a while.
The year 2020 initially began with 6 (count 'em)
six
CicLAvia
s planned - the most scheduled in a calendar year in the nearly decade-long history of Los Angeles' epic open streets event.
But then Kobe died. And things weren't quite the same after that.
We did have one CicLAvia in The Most Challenging Year - on February 23, a 5.9-mile jaunt through South Los Angeles from Historic South Central to Watts, a perfect route for Black History Month.
And that was the last time we had a car-free smiling Sunday.
The COVID-19 Pandemic even prevented CicLAvia from having a proper 10th anniversary celebration in October (The Lakers and Dodgers championships kinda made up for that though...
kinda
).
But here we are, one year, five months and twenty-three days later (539 days for those of you keeping score), with a decent amount of us fully vaccinated (including The Militant himself), it's time to get back together again (though with this Delta thing, we might want to keep our masks on and not get too close (not a problem for The Militant, naturally).
This 2.27-mile zig-zag though the streets of Wilmington is a re-run of the April 28, 2019 route, the shortest CicLAvia route to date, and a truncated version of the "San Pedro Meets Wilmington" route from August 13, 2017.Speaking of Short and Sweet, this route will only feature 10 points of interest. But these short routes are ideal for taking it easy and chillin', no crowding and keeping SoDis intact, with DMZ's (Dismount Zones) at a minimum.
If all goes well, there are two more this year - the big DTLA-centric "Heart of L.A." route in October to celebrate 11 years of America's Biggest Open Streets Event, and a return to South Los Angeles this December.
The Militant has not missed a CicLAvia since October 10, 2010 and has attended all 35 of them. So he certainly will NOT miss out on Number 36. As usual, see you or not see you on the streets on Sunday! HAPPY CICLAVIA!
NOTE: When sharing pictures or selfies of any of these locations along your CicLAvia ride on Sunday, don't forget to tag #EpicCicLAviaTour when posting on social media!
1. Wilmington Cemetery

1857
605 East O St, Wilmington
Built on a plot of donated land just north of Banning Park by Mr. Wilmington Himself, Phineas Banning (who was laid to rest here in 1885), this cemetery, one of the oldest in the state of California, is also the final resting place of numerous local Civil War and World War I veterans. It is also designated as a Los Angeles City Historic-Cultural Monument (#414).
2. Phineas Banning Museum

1864
401 East M St, Wilmington
It's appropo that we start our journey (both literally and metaphorically) here. Phineas Banning was one of them 19th century white dudes who basically did something and changed the shape, size and function of the city of Los Angeles forever. Born in Delaware in 1830, he worked as a young man in the shipyards of nearby Philadelphia. He moved to Southern California at the age of 21, but instead of doin' it wagon style cross-country, he took a long-ass boat ride to pre-canal Panama, and took another long-ass boat ride on the Pacific side to this sleepy fishing village called San Pedro, where he worked a number of odd jobs, including driving stagecoaches (it's like being an 1850s Uber driver). The stagecoaches worked between San Pedro and Los Angeles, and after he made some mad bank driving
Ube
stagecoaches, he launched his own startup - BanningStagecoaches.com. Then he started buying up vacant marshland property near San Pedro and named it after his Delaware hometown of Wilmington. He also was a big visionary type and thought the whole San Pedro-Wilmington are would make a nice port for Los Angeles. Back then, the city was looking at making Santa Monica a port. That big thing he did? He went next level on all them fools and built a railroad from Los Angeles to San Pedro. The City was all like, "Dude, we got a port now." The reason why the City of Los Angeles has a big skinny stick in the bottom is because of Banning. The reason why millions of tons of cargo goes in and out of ships in this area today is because of Banning. The reason why the Ports of Los Angeles and Long Beach are the largest ship terminal complex in the United States is because of Banning. The Greek Renaissance Revival structure in the middle of this 20-acre park in Wilmington was his residence from 1864 to 1885. The City of Los Angeles bought the site in 1927 for historic preservation.
3. William Wrigley's Court of Nations

1927
Lakme Avenue, Banning Boulevard and Cary Avenue between M and L streets, Wilmington
This plot of land south of Banning Park was purchased by chewing gum magnate and Chicago Cubs owner William Wrigley, Jr in 1927 from Phineas Banning (This was not the first time Wrigley dealt with Banning; he also purchased Catalina Island from him in 1919). Wrigley built several residences to house the workers of his local companies, which also included the Wilmington Lines ship ferry company, which transported tourists from the mainland to Avalon. He hired architect Sid Spearin, who designed houses in Spanish, Dutch, American Colonial and Tudor Revival styles and called it "The Court of Nations." The neighborhood became a historic preservation zone in 2001.
4. Avalon Palm Trees
1931
Avalon Bl between Pacific Coast Highway and East I St, Wilmington
Palm trees are everywhere in Los Angeles. Okay, so what? Well, these palm trees had a purpose for being here. Considering the City of Angels will be hosting
its third Olympic games in 2028
, these 218 Mexican Fan Palm trees are a remnant of an early Olympic legacy. They were planted here along Avalon Boulevard in 1931 as part of a citywide beautification effort for the 1932 Olympic Games. The Sailing competition took place in San Pedro Harbor, just past the southern end of Avalon. Speaking of Avalon Boulevard, did you know that it was originally named Canal Street before 1926? There was once a canal there, which was filled in 1851 and turned into a dirt road.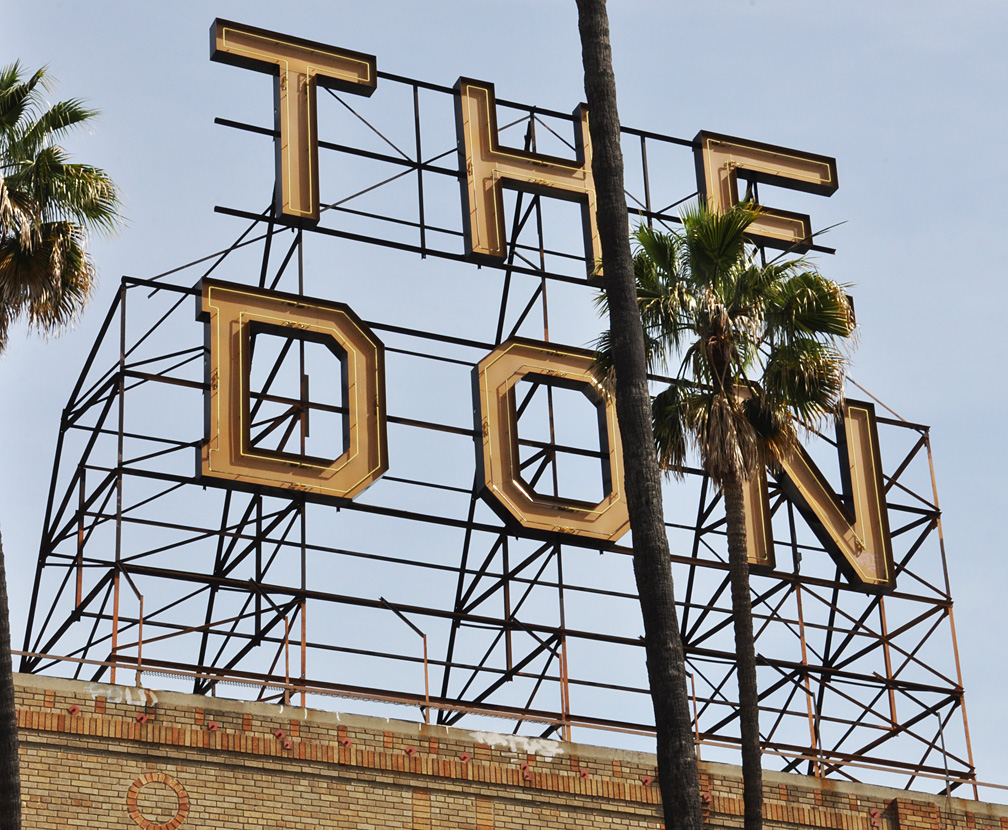 5. The Don Hotel

1929

906 Avalon Blvd, Wilmington

Opened in July, 1929,

The Don Hotel

(not to be confused with

this guy

, but rather its owner, a man named Don Hundredmark) was the most prestigious hotel in Wilmington during the pre-war period. Constructed to cater to tourists going to and from Catalina Island, it became an important gathering place in the area, with luminaries such as William Randolph Hearst and Bing Crosby once staying there. After falling into decay through the 20th century, the building was restored in the 1990s and turned into senior apartments in 1999. The landmark "The Don" neon sign atop the building is a restored sign put up in 2000 that was given the Hollywoodland treatment – it once read, "Don Hotel."
6. Granada Theater
1926
632 Avalon Blvd, Wilmington
Once Wilmington's landmark neighborhood Vaudevillian, and later motion picture, theater, it was built with with Renaissance Revival influences and a lighted prominent marquee. The only example of the property type remaining in the area. It was built by C.L. Post (of the Post Cereal family) in 1926 as part of the West Coast Theatres chain. In 1927, Fox Theatres purchased West Coast Theaters and changed the name to the Fox Granada. After falling into decay, it was resurrected (no pun intended) as a church in the 1990s, but was sold in 2015. It is now owned by the nonprofit
Wilmington Granada Friends
group that hopes to bring it back to its original use as a community entertainment venue.
7. Wilmington Municipal Building
1928
544 N. Avalon Blvd, Wilmington
Originally built in 1928 as the Seaboard Branch of California Bank, this Neoclassical style building has Corinthian columns and pilasters and decorated arches. And that corner clock! More recently, the building, now owned by the City of Los Angeles, is used as the office of the Wilmington Chamber of Commerce. It was also the former field office for Councilwoman Janice Hahn during the 2000s decade.
1924
109 W. C Street, Wilmington
She's mighty-mighty, just lettin' it all hang out.
9. Wilmington Waterfront Park/Harry Bridges Blvd
2011
Harry Bridges Blvd between Lagoon Ave and Figueroa St, Wilmington
Wilmington Waterfront Park
, which opened in 2011, was created a decade ago as a project to provide a 30-acre buffer zone in the form of public open space between the Port of Los Angeles and the residential community in Wilmington. The park features green space/landscaping, paths and walkways, benches, water features, pedestrian bridges, restrooms, drinking fountains, binoculars and a children's playground. The project also widened Harry Bridges Boulevard.
And who, exactly, is
Harry Bridges
? He was a 20th century labor leader in the West Coast best known for forming the
International Longshore and Warehouse Union
(ILWU) in 1937. The union is a huge presence in the blue-collar port communities of Wilmington and San Pedro.
10. The Southernmost End of Figueroa Street
Figueroa Street at Harry Bridges Blvd, San Pedro
This is the extreme southernmost end of the longest street entirely within Los Angeles City Limits (sorry, Sepulveda, you go through so many other cities), Figueroa was named after General Jose Figueroa, the governor of Mexican-Era Alta California from 1833 to 1835. The 25 mile-long thoroughfare runs up through Harbor Gateway and South Los Angeles through Downtown Los Angeles to the extreme opposite end, just north of the 134 Freeway, right below Eagle Rock's eponymous geological landmark (Yes, that picture is a
blue blade style sign
taken in Downtown Los Angeles, thanks for paying attention).