Interactive Map! Click on green points to view hotspots, or click here for larger view.
Looks like we made it - Sunday's "South L.A."
CicLAvia
is the third and last CicLAvia of 2021, a year that seemed to go by oh so fast. But it was great to return to the open streets this year, wasn't it? This time around, the 38th edition of Los Angeles' open streets event features a modified version of the December 7, 2014 CicLAvia. Instead of running down Central Avenue (the historic Main Street of Black Los Angeles), we have a 5.3-mile route that begins at Central and heads west along Dr. Martin Luther King Jr. Boulevard. Instead of running south towards Leimert Park, we head north on Crenshaw Boulevard (the contemporary Main Street of Black Los Angeles). The 23-mile street was named in 1904 after banker and developer George Lafayette Crenshaw, who developed the Lafayette Square and Wellington Square neighborhoods near Washington Blvd and his namesake thoroughfare. In addition to being the center of Los Angeles' modern-day Black community, particularly in Leimert Park, Crenshaw once was home to a
Japanese American community
. The exceptional width of both Martin Luther King and Crenshaw boulevards has supported automobiles, streetcars (and soon,
light rail
)
and even a space shuttle
. And now, it'll host bicycles, skateboards, scooters, wheelchairs, strollers, runners and pedestrians. Hopefully if The Rona doesn't get out of control next year, we'll have more of these again in '22.
Stay safe, stay healthy and see you or not see you on the streets this Sunday!
The Central Avenue corridor was home to Los Angeles' black community, primarily due to the racial covenants that restricted them from owning homes elsewhere in the city. But great things can come from places of injustice.
Ralph J. Bunche
was a teenager arriving with his family from Detroit, by way of Ohio and New Mexico, who attended nearby Jefferson High School and went to UCLA, graduating as the valedictorian at both schools. He went on to Harvard, where he earned his Ph.D in Political Science (the first African American to receive a doctorate in PoliSci from a U.S. university), and later was one of the founders of the United Nations. In 1950, due to his diplomatic work in the negotiations that ended the 1948 Arab-Israeli War, he won the Nobel Peace Prize -- the first nonwhite person to ever win the esteemed award.
And he once lived right here,
just two blocks east of the CicLAvia route.
This
mainstay of the local Muslim community
since 1973 also has a deep history in the local black community. The building was originally built in 1929 as the home of the local Elks club. But it was no ordinary Elks Club (who discriminated against black membership). It was run by the
Improved and Benevolent Protective Order of Elks of the World
, an African American-run organization founded in Cincinnati, Ohio in 1898 that functioned as a fraternal order for people of color. Though obviously not directly affiliated with the white Elks club, it is run with the otherwise identical customs and traditions, and with nearly half a million members worldwide, is the largest black fraternal organization in the world.
Just a few blocks south of the CicLAvia route is Gilbert W. Lindsay Park, named after Los Angeles' first African American city councilman. But years ago, this was the place where home runs, strikeouts and 7th Inning Stretches took place in the City of Angels. And yes it was a city of Angels, as the Los Angeles Angels of the Pacific Coast League made the 22.000-capacity Wrigley Field (named after the chewing gum magnate, who had several stakes in Southern California, including Catalina Island) its home. And as any truly militant Angeleno knows, the ivy-and-brick Chi-town tourist trap, though 11 years older, was originally called Weeghman Park and wasn't dubbed Wrigley Field until 1927, which made
Los Angeles' Wrigley Field the first Wrigley Field ever
. The stadium also was popular with TV and movie shoots, such as
Damn Yankees
and
The Twilight Zone
. In 1961, it literally went Major League as the American League expansion team Los Angeles Angels of Los Angeles played its home games there before moving to Dodger Sta, er,
Chavez Ravine
for the next four seasons, and then finally moving down the 5 to Anaheim. Wrigley Field was also home of the Los Angeles White Sox, a club in the short-lived, 6-team West Coast Negro Baseball Association, a Black minor league co-founded by Olympic gold medalist Jesse Owens which lasted but a single season in 1946. Yes, there's a baseball field in the park, but it's not the same location as the original diamond.
4. Banc of California Stadium

2018
3939 S. Figueroa St, Exposition Park
Home of the MLS'
Los Angeles Football Club
soccer team, this $350 million, 22,000-seat venue is the first open-air stadium to be built in the City of Los Angeles since Dodger Stadium opened in 1962. It was built on the former site of the 16,000-seat Los Angeles Memorial Sports Arena (1959-2016), which was the first Los Angeles home of the
Lakers
(1960-1967), the
Clippers
(1984-1999) and hosted the Boxing matches during the 1984 Olympics. In 2022, Banc Stadium will also become the home venue of the
Angel City FC
National Women's Soccer League team in 2022 and host the Men's and Women's Soccer tournaments during the
2028 Olympics
.
5. Historic Southern Pacific Palm Tree
Re-planted 1914
3901 S. Figueroa St, Exposition Park
Back in the late 1800s-early 1900s, the Southern Pacific Railroad operate out of a train station called the Arcade Station, on 5th and Alameda streets. A lone palm tree stood outside the station and functioned as a landmark for arriving passengers coming in from San Francisco or points east. In 1914 (
dude, a hundred years ago
) the Arcade Station was demolished (no, it wasn't consumed by a fire) to make way for a more modern station, called Central Station, and the palm tree had to go. So sentimental was the palm tree, instead of being cut down, it was moved to Exposition Park, where it has stood ever since. Like its neighbor the Space Shuttle Endeavour, it was a popular icon back in its day, and it's probably safe to assume that its transport through town was an event in itself. A little-known historic market at the base of the tree tells the whole story. So if you want to see a palm tree that was planted there over 100 years ago, there you go.
Bill Robertson Lane and Martin Luther King Jr Blvd, Exposition Park
Did you know there's an urban garden along the CicLAvia route? Local nonprofit
Community Services Unlimited
(an organization that, interestingly enough, originated from the Black Panther Party's community outreach programs in the 1970s) grows their own organic fruits and vegetables in this Exposition Park urban garden that they sell and distribute in this predominantly food desert area to help local residents gain access to fresh, healthy produce. They sell this produce at a stand outside the LA84/John C. Argue Swim Stadium next door on Thursday afternoons from 3 to 6 p.m.
1932
Bill Robertson Drive & Park Lane, Exposition Park
The Coliseum's little brother, the Los Angeles Swimming Stadium was the 10,000-seat venue for the 1932 Olympic swimming, diving and water polo competitions, as well as the aquatic portions of the pentathlon event. Olympians such as Buster Crabbe swam in its waters. After the games, it became a public pool, and in the '50s, USC's swim team used it as their training and competing venue. After over a half century of wear, and damage from the 1994 Northridge Earthquake, the swim stadium was renovated in 2002 and operates today as the LA84 Foundation/John C. Argue Swim Stadium.
Marco...Polo!
8. George Lucas Museum of Narrative Art

2023
Vermont and 39th St, Exposition Park
Taking shape on west side of Exposition Park like a
Naboo Royal Starship
is the George Lucas Museum of Narrative Art (or, "The Luke," as The Militant would like to call it), a state-of-the-art visual, cinematic and interactive museum founded by 'Star Wars' creator and filmmaker George Lucas and his wife Mellody Hobson. The site, located in close proximity to Lucas' alma mater, USC, beat out other site proposals in San Francisco (home of Lucasfilm, Ltd) and Chicago (Lucas' birthplace) when it was announced in 2017. Originally intended to open this year, it was delayed to 2023 due to the COVID-19 pandemic.
9. Celes King III Bail Bonds
1949
1530 Martin Luther King Jr Blvd, Vermont Square
Why is a Bail Bonds joint listed in the Militant's CicLAvia tour? WTF? Well, before 1983, this street was known as Santa Barbara Avenue. Celes King III was the person who lobbied to change the name of the street to Martin Luther King Jr (no relation) Blvd. A real estate broker, bail bondman, outspoken Republican, former Tuskeegee Airman, failed City Council candidate, co-founder of the Brotherhood Crusade and founder of the Kingdom Day Parade, he successfully lobbied the L.A. City Council in 1983 to re-name Santa Barbara Ave. after the slain civil rights leader -- albeit not without controversy. Some of his critics accused him of doing it to irritate then-Mayor Tom Bradley, one of his political enemies, and others have criticized CK3 of conflict of interest (his residence (he lived in the apartment upstairs) and his bail bonds business were located on Santa Barbara Ave after all) and even ego trippin' (the short-hand street signs say "King Bl"-- the same as his own last name). Whether this was a self-aggrandizing stunt or a genuine tribute to an American hero, we will never know:
Celes King III died in 2003
. But here's one interesting CicLAvia route fact: His father, Celes King, Jr was the owner of Central Avenue's Dunbar Hotel back in its heyday.
2419 Martin Luther King Blvd, Leimert Park
The Militant loves tacos, as you may or may know. But along the CicLAvia route is perhaps one of the most unusual taco joints around.
Worldwide Tacos
makes over 150 types of tacos, in chicken, beef, lamb, chicken, duck, turkey, pastrami, shrimp, fish and vegetarian varieties, all freshly-made and cooked to order. Prices range from $2.50 to $8.50 each. But that's not the catch. The catch is that the wait time ranges from 15 minutes to
two hours
. The Militant has not tried Worldwide Tacos (nor has he waited for one), but his operatives who have (and endured the long wait, though you can just leave them your cellphone number and they'll call you when they're ready) say they're pretty bomb-diggity. Hmmm...
11. Yellow Car Right Of Way
1902
Leimert Blvd between Martin Luther King Jr Blvd and Vernon Avenue
See that nice, wide, landscaped median branching south of MLK through Leimert Park? Could you ever guess what it used to be? Yup, it was the right-of-way for the Yellow Car trolleys of the Los Angeles Railway, part of
The 5 Line
, which ran from
Eagle Rock
(ya, rly) to Hawthorne. Actually The CicLAvia route from the 110 Freeway to Leimert Avenue was part of the 5 Line, and because of that Leimert Park was originally planned as a transit-oriented community (it was also originally planned as a whites-only community, but so much for that, eh?) Incidentally, part of this same historic Yellow Car Line, along both Crenshaw Blvd and Florence Avenue, will soon be re-used for rail transit as part of Metro's under-construction
Crenshaw Line
.
12. Baldwin Hills Crenshaw Plaza

1947
3650 Martin Luther King Jr Blvd, Crenshaw District
Originally known as the Broadway-Crenshaw Center, it opened on November 21, 1947 as one of the first auto-centric regional shopping centers in the US. The Streamline Moderne shopping center, designed by Albert B. Gardner, was home to a 5-story
Broadway
department store, a Vons supermarket and a Woolworth's discount store. In 1949, a Silverwoods clothing store opened, and the landmark bridge over MLK (then known as Santa Barbara Avenue) was built to connect with the existing 1947 May Company building on the north side of the street. Today's version of the shopping center came about during a late 1980s remodel. If you drop by the mall, The Militant highly recommends checking out the cupcakes at
Southern Girl Desserts
!
13. Sanchez Adobe

1791
3725 Don Felipe Drive, Baldwin Hills
In the streets behind the Baldwin Hills Crenshaw Plaza stands what may or may be the oldest building in Los Angeles. The crown was long believed to belong to the 203 year-old 1818
Avila Adobe
on Olvera Street, but
further historical research in 2012
revealed that this structure
, originally part of Rancho La Cienega o Paso de la Tijera, dates back some 50 years prior to when it was deeded to Don Vicente Sanchez in 1843, making it around 230 years old. The building was later owned by Baldwin Hills' namesake Elias Jackson "Lucky" Baldwin, who brought freed slaves to work in his homestead after the Civil War. The historic structure - 30 feet wide and two stories tall - has been integrated into a large single-story building built in 1927. It is currently home to Agape Church of Los Angeles.
14. Black Dahlia Body Site

1947
3825 S. Norton Ave, Crenshaw District
On the morning of January 15, 1947, the body of 22 year-old waitress Elizabeth Short, a.k.a. "
The Black Dahlia
" - the victim of arguably the most famous unsolved murder case in Los Angeles history - was discovered on this site (at the time an empty lot; the house was not built until 1956) by a local woman walking with her young daughter. Short, a transplant from Boston who was reportedly an aspiring actress, was missing the week prior to the discovery of her body, and the case garnered national headlines due to the gory details of her murder. The LAPD's investigation yielded over 150 suspects but no arrests. The cultural intrigue surrounding Short's death became a huge influence on the 1940s 'Los Angeles Noir' phenomenon.
15. Ken Clark Pontiac/Majestic Pontiac Sign

1952
3740 Crenshaw Blvd, Crenshaw District
Although Crenshaw supported a streetcar line south of Vernon, the thoroughfare north of it had always been auto-centric in nature and design. From the late 1930s to 2000, The 'Shaw was once home to an auto row, boasting car dealerships such as Crenshaw Ford, Harry Mann Chevrolet (once the largest Corvette dealer in the US), O'Connor Lincoln-Mercury and Peterson Oldsmobile. The last of the lot, so to speak, was Majestic Pontiac, at Crenshaw and Coliseum. Originally Ken Clark Pontiac from 1952 to 1960, the business was sold and became Majestic Pontiac. The dealership's telltale neon sign with the Pontiac Indian logo was an icon on the boulevard, much like how Felix Chevrolet's cartoon cat smiles over Figueroa today. The dealership closed for good in 2000 and the lot was converted into a shopping center soon afterward. But the original 1952 sign still remains, Pontiac Indian head intact, this time adapted to bear the signage of Big 5 Sporting Goods and Goodwill Industries.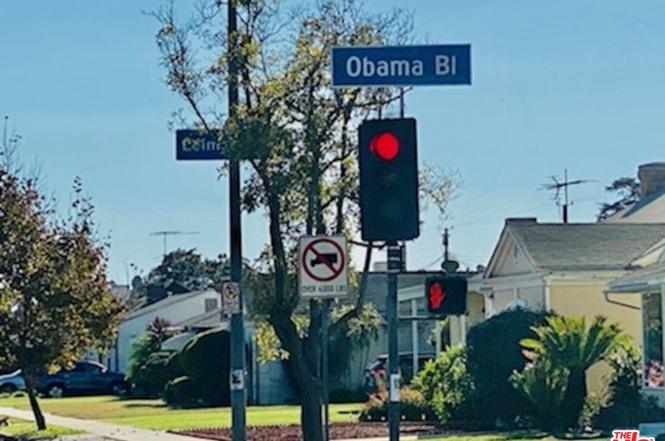 16. Obama Boulevard

2019
Obama Boulevard between Martin Luther King Jr. Blvd and Gramercy Pl
Originally named Rodeo Road in 1911, presumably to honor the history of cattle ranchers of the area, most specifically those of nearby Rancho La Brea. After living in the confusing shadow of the more opulent Rodeo Drive in Beverly Hills since the 1920s, the street was officially re-named and re-dedicated "President Barack Obama Boulevard" in a public ceremony and festival on May 4, 2019, in honor of the 44th (and first African American) president of the United States, who made one of his first presidential campaign appearances at Rancho Cienega Park on February 20, 2007. The street is nestled south of Washington, Adams and Jefferson boulevards, and intersects with Martin Luther King Jr. Blvd. It joins 16 other thoroughfares nationwide named after Obama.
Enjoy CicLAvia again and STAY MILITANT!